Dear friends,
This week, Kobot is participating in Edmonton's The Works Art and Design Festival, representing the Graphic Designers of Canada at their tent on Churchill Square. The idea behind the GDC's tent is to see designers in their "natural habitat" working on real projects out in the open, while explaining the process of graphic design.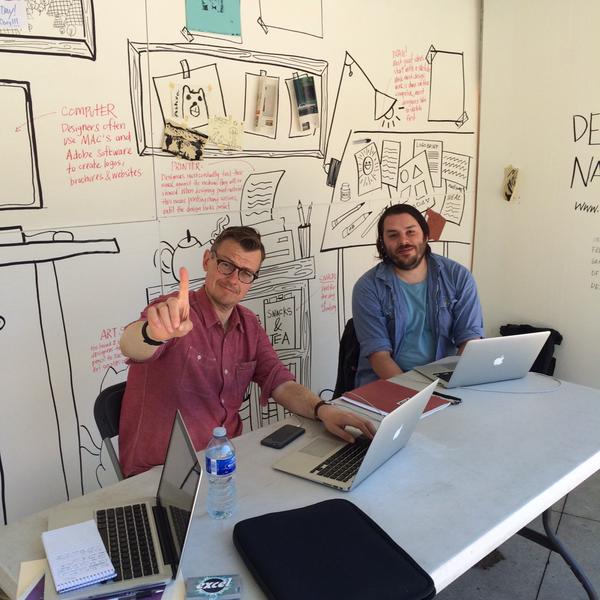 So, we're making a website—and hoping to finish it by Friday (fingers crossed!). We considered making a website just for fun, but then the perfect opportunity to marry client work (our natural habitat) with an arts-related festival (perfect for The Works) presented itself: Nuit Blanche.
Yes—and if you don't know, now you know—Edmonton is joining cities around the world in throwing a Nuit Blanche, an all-night contemporary art party that will flood downtown with tens of thousands of people this September to bask in the complicated, challenging and beautiful world of contemporary art. We're building their website.
Actually, two websites: Nuit Blanche requires an administrative website (what is it? who's in charge? who is sponsoring? when will you announce the exhibits?) and an event website that tells visitors about the artists, where, and when it's happening, includes a map, let's you tweet to your friends about it, that kind of stuff.
Because it's the simpler of the two (and we may be able to complete it in a week, maybe [double maybe]) we'll be creating the admin site all this week down at The Works. If you've ever wondered, "What steps are necessary to complete a website?" or "Doesn't Photoshop do most of it, what am I paying you for?" or "Is your phone broken? Because you never call… " (Hi Mom!) we hope to answer some of your questions this week.
So please, follow the blog where we'll update you on our progress, keep your eye out for our tweets (@wearekobot), like us on Facebook (facebook.com/wearekobot), bring Slurpees down to Churchill Square on your lunch hour, whatever. And, if you are in the area and have questions about any aspect of design, drop by the GDC tent in Churchill Square and we will answer it for you.