Friday marked Kobot's final appearance at the Works Art and Design Festival and a chance to show people what designers do on Friday afternoons—knock off early!
Day 5
No, just kidding: on Friday we answered TONS of questions. It was nice because one of the points of our work down at the square was to help increase public understanding of design as a profession on behalf of the Graphic Designers of Canada Alberta North Chapter.
In addition to answering a lot of questions, and hanging out with people from all over the world who were visiting Edmonton to find a venue in which the Elvis impersonator they manage can perform (Hi Linda!), we were able to get a few changes done to the Nuit Blanche site before we ran out of steam, got some popsicles and took off at 4:30.
Mostly we instituted the new colour scheme into the Nuit Blanche site. It took a bit of balancing because the sponsor logos are slightly transparent and were all balanced for the much darker palette of colours that we had in there before, but which we don't now.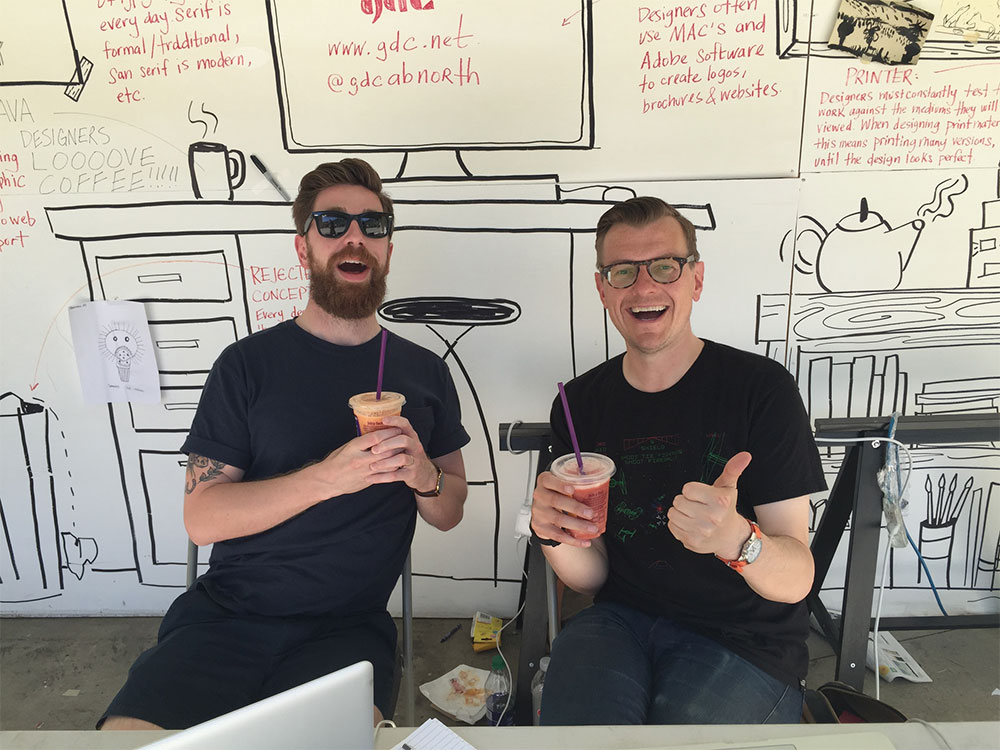 Thanks to Jenny for bringing us Jugo Juice!!!
Other than that, well, look, it was really hot. It was, like 29 degrees okay, and while you were in your air-conditioned office we were out in the sun on Churchill Square sweating it out, for you. That's right, for you. We were there for you, for your amusement and to answer your questions. You never answer OUR questions about YOUR profession, alright pal? So cut us a little slack, okay?
Anyway, looking forward to the temperature cooling off a bit. Thanks very much to the Works Art and Design Festival for having us, to the volunteers and staff that took great care of us and answered our questions, to the Graphic Designers of Canada Alberta North Chapter who let us answer questions on their behalf, to the other artists and designers at the festival whose work we enjoyed very much, Cut+Paste for bringing us lunch (nearly) every day, to everyone who came and spoke to us at the festival and ESPECIALLY to the couple who brought us ice cream, that was the best, thank you.