Kobot is still down here at the Works Art and Design Festival, working on a site for Nuit Blanche. In between answering a lot of questions—which we're really happy to do, come see us!—we've made some progress on the site.
Day 4
Anyway, we're still down here getting stuff done, and talking to people, and eating ice cream. We're also really sweating. A lot.
Yesterday we posted a screenshot of our progress so far—and let me tell you, it was a difficult thing to do. It's hard to explain to somebody how a design will change when you set something down in front of them that doesn't look particularly good humans are very visual—what you put in front of them seems permanent.
And, speaking of it not being permanent, we had a client meeting down at the square (with Ruth Burns, President and Chair of the Nuit Blanche Edmonton Board) and she wanted to alter the colour palette from the one that's on the existing website to one that is much brighter. Like totally flip it. It's a good change: the black was REALLY dark, even for a festival that occurs at night.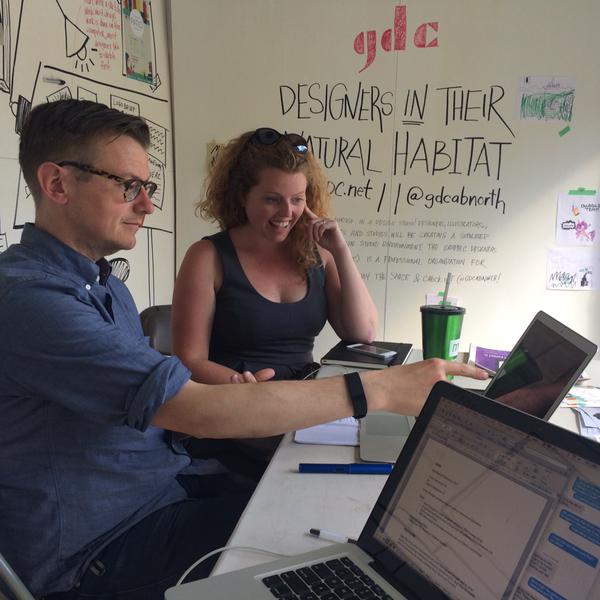 The change will feel drastic, but it won't be. At this stage in the design, adjusting colour palettes can be easy. We just change some hex codes in the CSS and voila—that change cascades through all the site's pages. Maybe we need to balance it out a bit after that but, honestly, easy as pie.
So, when you see the site, it'll be even MORE different from the different I suggested it would be when we posted the screen shot.
Friday is our last day down on the square, so if you wanted to bring us Slurpees, that's your last chance. We're REALLY hot, guys. Like, overheating.